Crafters and fellow paper crafting addicts, I would like to introduce you to Mischief — my partner in crime!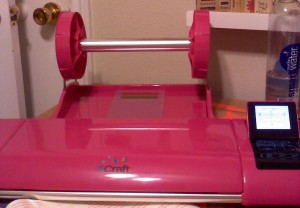 Isn't Mischief AMAZING?!??!  What?  You've never heard of an eCraft???  Mischief is my first ever electronic die-cutter and oh the things she can do!!!  But before I tell you how awesome Mischief is, you gotta clear your mind of everything you know about those other die-cutters that you can buy in the craft stores…this machine is NOTHING like those!  How?
No sticky mat.  None, nada, zip, nope!  You don't need it and really, who wants that?  I don't!  Those things are gross and a total pain.
No insanely priced cartridges or image cards.  I can use my own designs, I can use any of the wonderful designs available on the internet, I can use the cards designed for the machine (at VERY reasonable prices) and I can even purchase single designs off the eCraft website.  Its MY choice and I'm a girl who likes choices!
3rd party software compatible.  That's right, THIRD PARTY PLUG-INS ALLOWED!  So if you're already using SCAL or MTC, there's no need to stop using them.  Don't own those?  No worries, eCraft come with software!  Included!  No extra charge…  FREE!!!!
Inexpensive replacement blades.  Not that you'll need them for a while since the eCraft comes with 1 blade in the machine and 4 extras too.  Not just that; this machine comes with a pen in the machine AND an extra one.
What have I cut with my Pinc?  Super thin paper, card stock, textured card stock, CHIPBOARD and I even kiss-cut some contact paper designs for my daughter who changes her bedroom decor almost as often as she changes clothes!  What is kiss-cut, you ask?  It means that I cut the sticky contact paper but not the wax paper it sits on.  How cool is that?!?!?  Bring on the VINYL, cuz I can cut that too!
Need to cut a whole bunch of the same design?  I can do that too!  My eCraft has 3 ways to feed paper…tray, roller and through the front.  So to cut a bunch of the same design I just stack some paper in the tray, tell Mischief how many I want cut and off she goes!  Why, she'll even arrange the design so that I can get as many cuts as possible from each piece of paper…
Got a really intricate design?  That's easy!  Place your paper on top of a sheet of card stock, feed them both into the machine and cut.  The extra piece of card stock helps support the intricate design while its being cut.  And no, you don't need to use any adhesive…
Don't like the color?  How about blue or white or purple?
What else can an eCraft do?  That's what I'm going to find out; see, I've only had this machine for a few weeks.  So keep stopping by to check out what Mischief and I have been up to!  And while you're waiting for my first project to get posted, why not have a look around eCraft's website — the link is over there on the right side of my blog, up towards the top 🙂