"Mother"
And I can hear you calling my name
Your healing hands smooth away the pain
And I can hear you whispering It'll be alright,
you'll stay until the night breaks into day
You are my light in the dark
You stand beside me
You take my hand, show me the way
You're here to guide me
You give me the strength that I need
You give me shelter
You gave me life you give me love
You are my mother
And when you hear me calling your name (I hear your voice)
You touch me with your chosen words
Everlasting faith, everlasting love is the greatest gift you have
Believing, understanding me
You are my light in the dark
You stand beside me
You take my hand, show me the way
You're here to guide me
You give me the strength that I need
You give me shelter
You gave me life you give me love
You are my mother
Closer, closer, closer to heaven are you
You are my light in the dark
(You are my light)
You take my hand and show me the way
You give me the strength that I need
(Strength that I need)
You gave me life, you give me love
(Ooh I love you, I love you, I love)
You are my light in the dark
(Oh I love you)
Take my hand and show me the way
You give me the strength that I need
-Donna Lewis
I consider myself one of the 'lucky ones'… my mom isn't just my 'mom', she truly is my friend. Now that's not to say that she doesn't regularly pull the 'I'm your Mother' card; it just means once she's done giving me grief, she'll listen to me openly and honestly…like a friend would.
My mother isn't a scrapbooker (she's a quilter), but that doesn't mean that I can't inflict my craft upon her 😀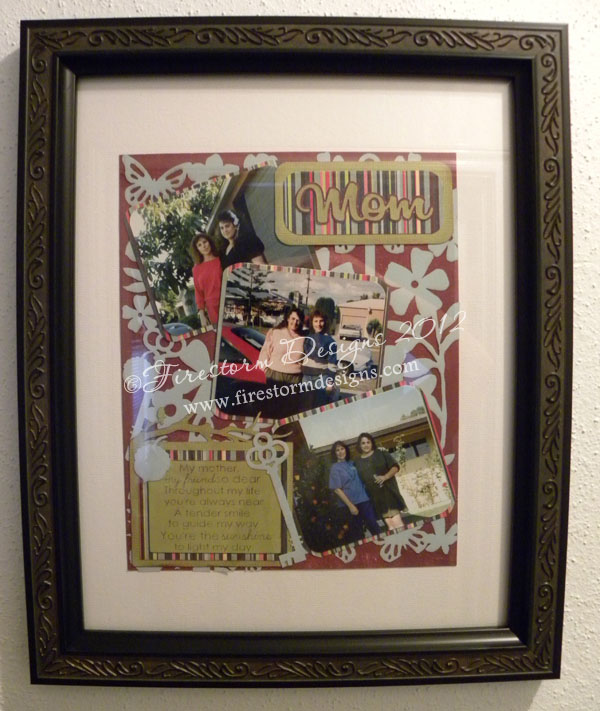 For this project, I picked older pictures on purpose. Growing up I was a 'latchkey' kid; my mom busted her rump to put a roof over my head, clothes on my back and food in my stomach. Times were rough for much of my childhood and I know that my mom feels like she wasn't there enough for me and my brother; but she was there…her memory just didn't file the same memories that mine did. And lets be honest here; who's childhood memories are more important? LOL That's right, MINE are 🙂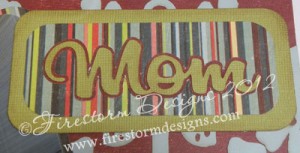 My memories are filled with rides in the car through the hills of Santa Barbara, weekend trips to the beach, warm homemade tortillas with butter, my mom chasing us through the apartment, throwing the top sheet up in the air and diving under it and more… You see, I never really knew I was a 'latchkey' kid until I became much older and by then, I was thankful for it. I'm a very independent, self-sufficient individual who learned how to be resourceful when times are lean.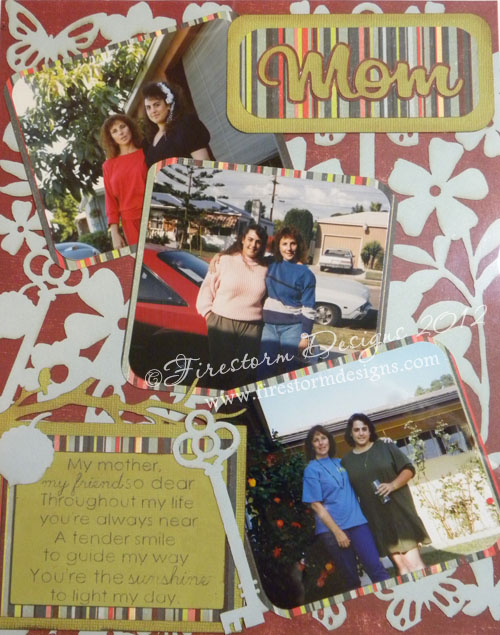 But my mother is starting to get up there in years (lol) and she needs to be reminded… A LOT… that I had a great childhood, that she was (and still is) always there for me and I wouldn't change a thing. Its made me who I am today and it paved the road for the phenomenal relationship that we have today.
I love you Mom… Happy Birthday… Happy Mother's Day…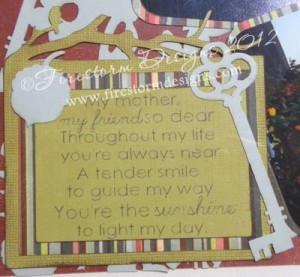 What I Used:
eCraft
Xyron Create-A-Sticker
Cloud 9 Design Pattern paper by Colorbok
Dear Lizzy + American Crafts' Enchanted – Delightful Robin
Core'dinations Card Stock
eCraft Central – 'Mom' cutout and 'Bird on Branch' Journal cutout
Scotch ATG
Brown Ink pad
8X10 Frame
How I Did It:
Cloud 9 Design paper still makes affordable, double-sided card stock – which I love! It makes color-matching sooooo much easier, especially with unique colors like the ones in this project. I used my eCraft to cut the 'Mom', the shadow for it, the journaling backdrop/squares and for the background pieces behind the pictures and title. My Xyron was super handy for gluing all the intricate pieces and for gluing the 'Mom' layers. I used my ATG for the pictures since I didn't want adhesive getting on the sections of pictures that overlap and used the ink to tone down the green card stock and give it a little depth.
Once I got past the emotional aspects of this project, it went together really fast. What?!?!? She's my MOM! I love her…way MORE 😉