I get kissed by the sun each morning
Put my feet on a hardwood floor
I get to hear my children laughing
Down the hall through the bedroom door
Sometimes I sit on my front porch swing
Just soaking up the day
I think to myself, I think to myself
This world is a beautiful place
I have been blessed
And I feel like Ive found my way
I thank God for all Ive been given
At the end of every day
I have been blessed
With so much more than I deserve
To be here with the ones
That love me
To love them so much it hurts
I have been blessed
–Martina McBride
As I'm sure many of you have noticed, I'm not currently on the Craftwell Design Team and my (temporary) absence happened rather abruptly and without explanation.  It's not that we broke up, I still love my eCraft and Craftwell.  And no, I'm not seeing other die-cutters either!  Mischief is still my one and only LOL  But I was diagnosed with Invasive Ductal Cancer the beginning of June and needed to step down.  I am 1 in 8.
But that's not what this post is about!  LOL  Every now and then you find out something truly awesome about someone in your life and it touches your heart to its very depths.  Its an amazing experience and I'm always grateful for those moments.
Since my diagnosis my wonderful mother in law has been sending me cards almost every day.  Some are funny, some are mushy and some are just plain cute!  But every one of them has been a welcome bright spot in a time of my life that I never thought I would be going through.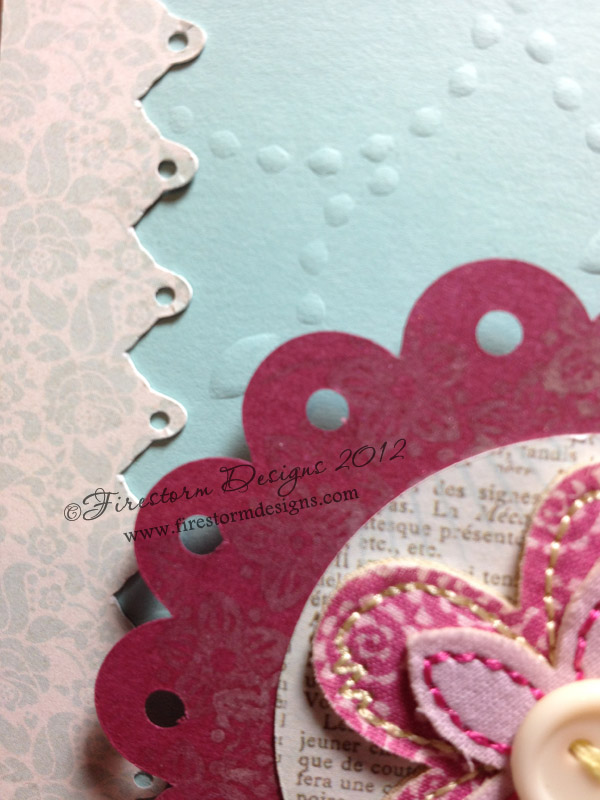 I thought it was high time that I became a bright spot in her mailbox!  The cheerful fabric flower is from Basic Grey and it what I built the card around…  Behind it I used some papers from the Lost & Found 'Portobello Road' 6×6 paper pad; its also what I used for that pretty border along the side.  The card base paper came from Stampin' Up, which is also where the 'Thanks so much' stamp came from and I used a vibrant blue chalk ink from Color Box.  For the scalloped piece I used that oh-so-diecutable paper from Worldwin Papers that I'm so wild over!  To add some dimension to the scalloped circle I used a cute little flower stamp from Stampin' Up that I put Perfect Medium on and then dusted with 'Blush' Perfect Pearls.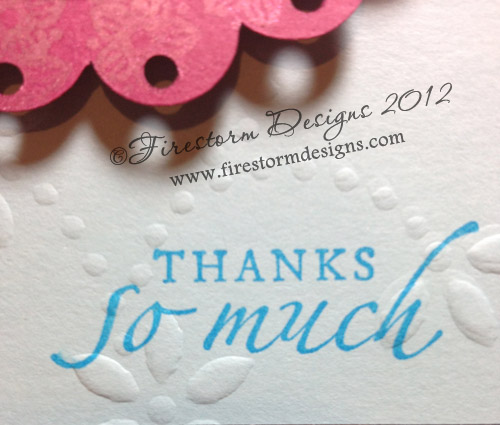 My stamping skills have certainly improved but my embossing skills have not!  LOL  Which is why I'm chomping at the bit to get my grubby hands on one of those eBossers!  No more slipping or having to juggle the 'sandwich', the embossing machine and a hand crank all at the same time.
Luckily, I knew I could count on Mischief to cut out the card base, the scalloped circle AND the sweet little border.  There's no way I couldn't, I can't even cut a straight line!
Life is short… So always remember 😉  Live Well, Love Much, Laugh Often and Craft In Between!!!