Posts Tagged 'Die-cutter'
Mother
And I can hear you callin' my name
Your healing hands smooth away the pain
And I can hear you whisperin' it'll be alright
You'll stay until the night breaks into day
You are my light in the dark
You stand beside me
You take my hand, show the way
You're here to guide me
You give me the strength, that I need
You give me shelter
You gave me life, you give me love
You are my Mother
-Donna Lewis
I consider myself quite lucky to have the relationship with my mother that I do. Now that we're passed the drama filled days of my youth, I'm able to enjoy a strong friendship with my mom that is unique to mothers and daughters. And its that connection that continued to give me strength through one of the toughest periods of my life. It wasn't easy for my mom to watch me battle cancer, but she never failed to be there for me when I needed her.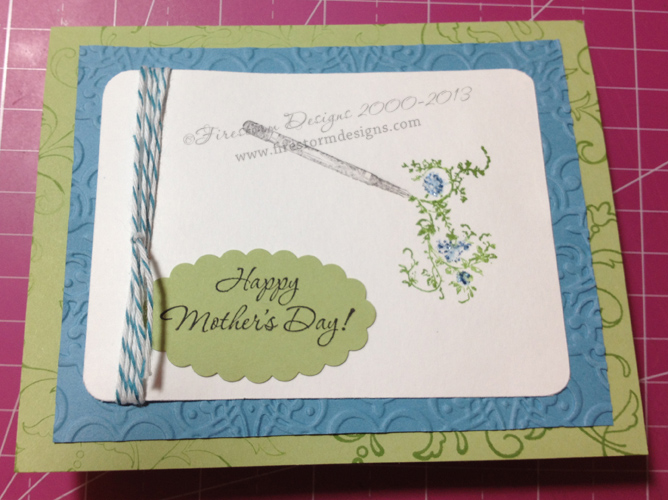 What better way to show my mom how much I love her, then with a handmade card! That's another great thing about moms; they LOVE handmade stuff from their kids…no matter how old they are!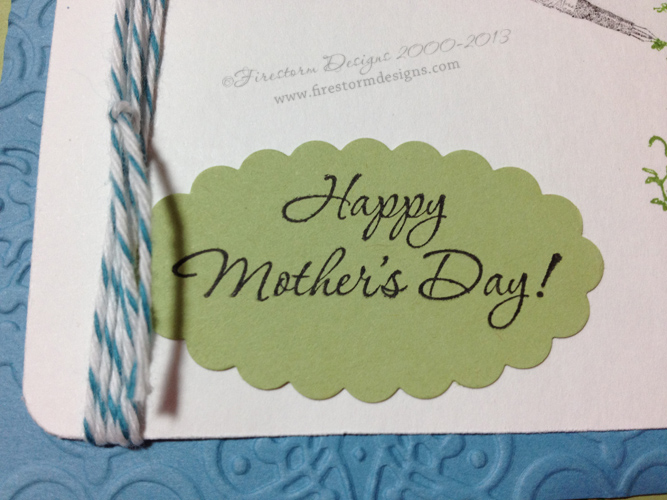 Mother's Day also gave me a chance to get back into my craft room and continue to get reacquainted with all my toys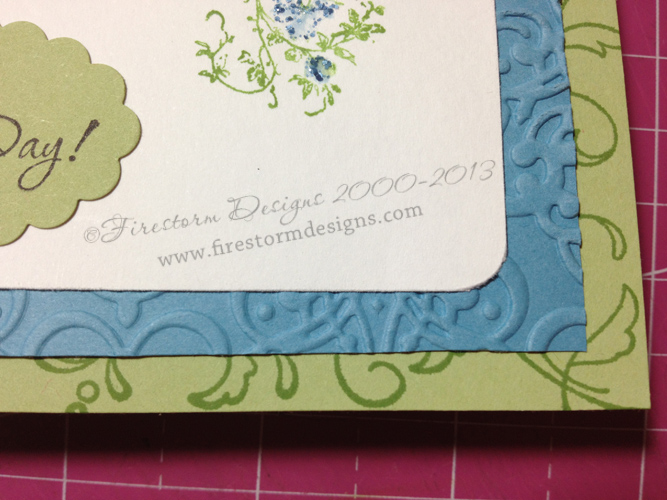 What I Used:
eCraft
eBosser
Stampin' Up 'Wonderful Mother' stamp set
Stampin' Up 'Creative Elements' stamp set
Stampin' Up 'Rue Des Fleurs' stamp set
Stampin' Up Gumball Green ink
Stampin' Up thread
Zag Color Markers
Cutmates Paper by WorldWin
Sizzix Texture Plate
Stickles – blue
"18 Wheeler"
Can't keep me down
Can't keep me down, down
Can't keep me down
I said you can't keep me down
You know you can't keep me down
I said you can't keep me down
-P!nk
I would post more of that song…but….well…it has a bad word in it! That song has been my fight song for nearly a year now and although the message of the song is simple, its still quite powerful. And though I prefer songs that don't have profanity in them (so my daughter can listen to them too), my battle with stage 3 cancer this past year has elicited more then a few choice words from me!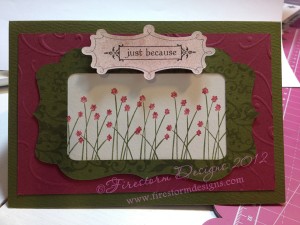 In all the hustle and bustle of modern life, there are times when we make things more complicated then they need to be; sometimes we just need to keep things simple to get the message across.

Stepping back into my craft room after 10 months has been exciting and a little bit overwhelming too. I longed to create something and have everything I need but still I struggled with what to create. I knew I had to use the eBosser (aptly named Mayhem, has been calling to me for months now!) and I needed to blow the dust off of my beloved Mischief (my Pinc eCraft)…but I was still at a loss as to where to start. Chemo, although completed, is still wreaking havoc with my world; luckily though, I have a mom who was really good at repeating herself when I was growing up! LOL I just needed to KISS – Keep It Simple Silly.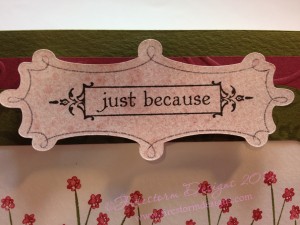 And so I did… A simple card to convey a simple message to be sent to someone who just needs to know they're being thought of. Its the simple things in life that can have the most profound effect.
What I Used:
Mischief – Pinc eCraft
Mayhem – eBosser
Cutmates Paper by WorldWin
Sizzix Texture Plate
'Just Because' stamp by Stampin' Up!
Tattered Angels Glimmer Mist
Scotch ATG
$1 Flower Stamp from Walmart
Zig Pens
If you're struggling to find inspiration for your next project; just get back to basics and keep it simple