Posts Tagged 'electronic die cutter'
Mother
And I can hear you callin' my name
Your healing hands smooth away the pain
And I can hear you whisperin' it'll be alright
You'll stay until the night breaks into day
You are my light in the dark
You stand beside me
You take my hand, show the way
You're here to guide me
You give me the strength, that I need
You give me shelter
You gave me life, you give me love
You are my Mother
-Donna Lewis
I consider myself quite lucky to have the relationship with my mother that I do. Now that we're passed the drama filled days of my youth, I'm able to enjoy a strong friendship with my mom that is unique to mothers and daughters. And its that connection that continued to give me strength through one of the toughest periods of my life. It wasn't easy for my mom to watch me battle cancer, but she never failed to be there for me when I needed her.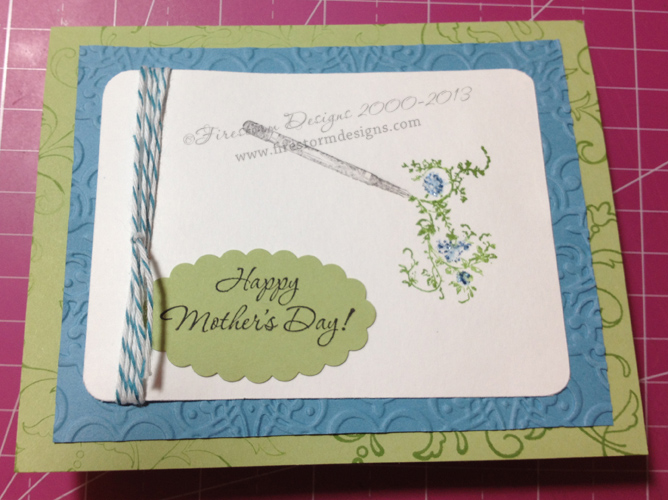 What better way to show my mom how much I love her, then with a handmade card! That's another great thing about moms; they LOVE handmade stuff from their kids…no matter how old they are!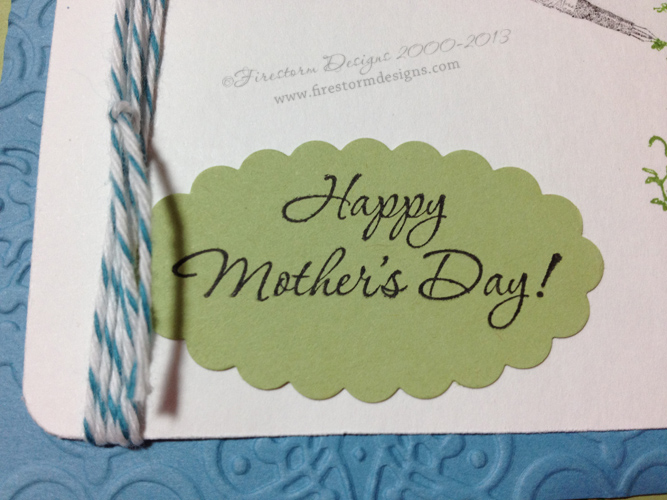 Mother's Day also gave me a chance to get back into my craft room and continue to get reacquainted with all my toys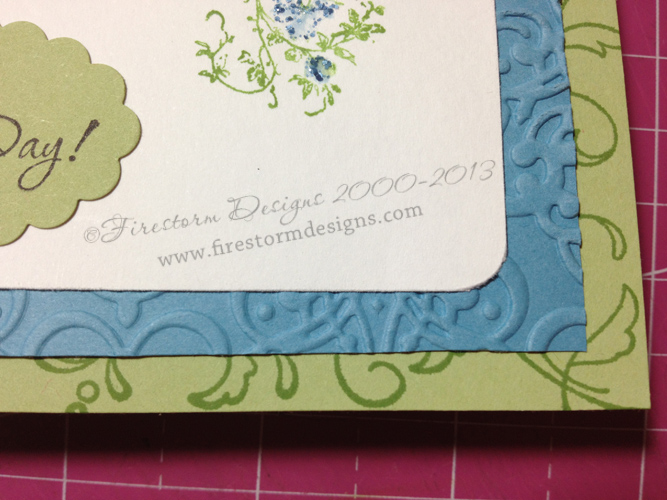 What I Used:
eCraft
eBosser
Stampin' Up 'Wonderful Mother' stamp set
Stampin' Up 'Creative Elements' stamp set
Stampin' Up 'Rue Des Fleurs' stamp set
Stampin' Up Gumball Green ink
Stampin' Up thread
Zag Color Markers
Cutmates Paper by WorldWin
Sizzix Texture Plate
Stickles – blue
"Days Go By"
I'm changing lanes
I'm talking on the phone
I'm drivin' way to fast
And the interstate's jammed with
Gunners like me afraid of coming in last
But somewhere in the race we run
We're coming undone
Days go by
I can feel 'em flying
Like a hand out the window in the wind as the cars go by
It's all we've been given
So you better start livin' right now
'Cause days go by
-Keith Urban
With Memorial Day behind me, I'm reminded of all the other times I've said 'Thank you' for something that someone has given me or done for me; but how many times did that 'Thank you' come in the form of a physical card? Not often enough, I know that…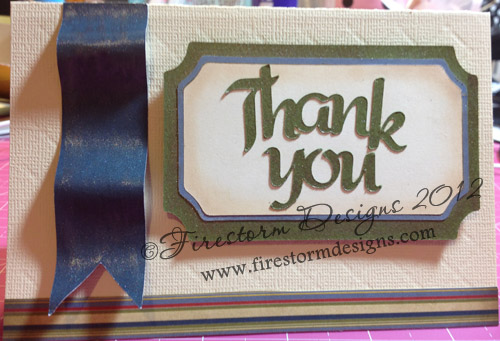 In the hustle and bustle of daily life 'polite' society has gotten a whole lot more relaxed these days… Ladies no longer wear white gloves, Calling Cards (not the kinds you use for phones) are long gone and even learning how to write in cursive has gone by the wayside.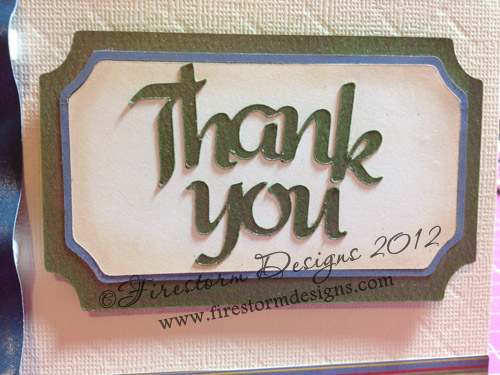 Soon enough, I imagine even physical 'Thank you' cards will become a thing of the past… Yikes! Can you imagine getting nothing but BILLS and JUNK MAIL in your mail?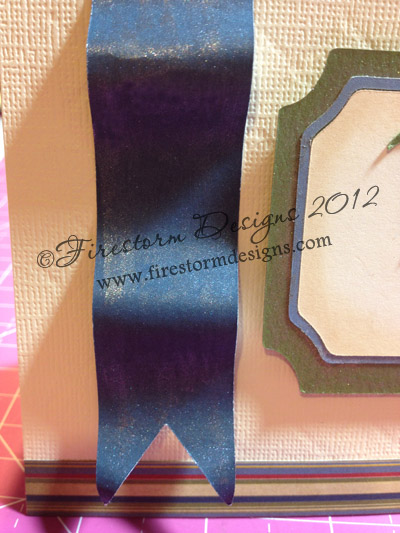 I don't know about you, but that's not something I want! Luckily, we can still prevent that from happening

If each of crafters buckles down and sends out HAND MADE (lol) cards for every little gift received and kindness shared – who knows what kind of changes we could bring about. Why, we might even dabble in that other long, lost art…Letter writing!
This week's project has been proudly sponsored by SignifyPink – right now they are blowing out the doors on all their products, so get on over to their site FAST!
Wholesalers – www.signifypinkwholesale.com Don't have a wholesale account yet? They'll get you set up and fast!
What I Used:
eCraft
SignifyPink 'Honor'
CutMates Cardstock
Perfect Pearls
Xyron 5" Creative Station
Foam squares