Posts Tagged 'Inkssentials Watermark resist pad'
"Love Is Love"
You don't have to touch it to know
Love is everywhere that you go
You don't have to touch it to feel
Love is every second we steal
Love is love is nothing without you
Love is love is everything you do
Open up your eyes
And you will see
Love is love is everything to me
-Boy George w/Culture Club
Candice…this one is for you!  How did you know that I'm sentimental?!?!?  You peeked, didn't you!
Yep, its true… I am incredibly sentimental and tend to chose things based on how they 'feel'.  Music has the ability to illicit emotions out of me and even the not-so-occasional goosebumps.  And because my tastes are based in how a song feels, the genres listed in my iTunes is as varied as the colors in my scrapbook papers.  Classical to Country, Hip-Hop to Rock, Oldies to Alternative and everything in between!  Music is connected to most of the memories rambling around in my heart…  Music also seems to be how I 'file' my memories – Certain songs (100's) are how I remember events – I listen to the song and can recall the moments lived within that song.  Want to know my mood?  All you have to do is see what music I'm listening to and you'll know…
My parents are very much music people too and my early childhood is filled with memories of them singing to me.  My father used to play his guitar and sing to me; VERY powerful memories there.  So much so that the only item of his that I've ever requested was his guitar.  My mother has always, and continues, to sing along with the songs that she's listening too — along with singing little songs that she's made up herself.  That twinkle in her eyes so bright and alive!
This card has elements that 'feel' right together… Love, Paris, Earth tones…  But like music, this card has little intricacies that are not picked up on at first glance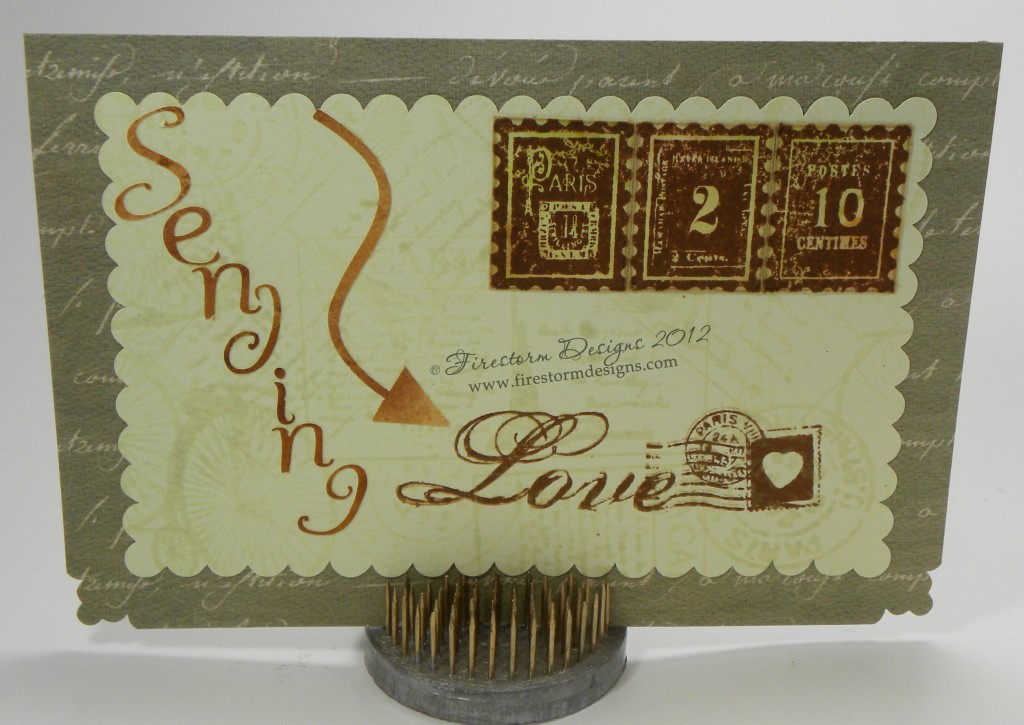 This month I welcome new sponsors; Unity Stamps and WorldWin Papers…  So before I lay out the how's, I gotta tell you about the 'What's'!  lol  What I used, that's what 'what's' I'm going to tell you about

Unity Stamps – Gosh I love these!  Ooooohhhhh how I love these stamps!  Now that you know a little more about me, I'm sure you can see why.  The DETAILS!  These stamps have that nostalgic feel, complete with lines and nicks in them – which make them PERFECT!
WorldWin, CutMates – The CutMates cardstock is also branded as eCraft Diecutable Cardstock and you can bet my eCraft is now powered by CutMates Diecutable Cardstock.  This paper is not only GORGEOUS but it cuts sooooo nice in the eCraft.  Crisp, clean cuts that just fall into my hands!  Love it!  If you'd like to get your hands on some this buttery cardstock – head on over to The Paper Mill —> http://www.thepapermillstore.com/ecraft-diecutable-mulit-colored-card-stock-12-x-12-in-65-lb-cover-felt-52-per-package.html?___SID=U and they will hook you up!
Have you studied the first picture and figured out the unexpected, not so obvious part of it?  Nope, that's not it!  *giggles*  As Rafiki would say 'No, look harder'.  Rafiki is the man!
Noooooo its not my inexperienced stamp hands doing not such a clean 'Love' stamp.  Although I would LOVE for all you stampers to toss me some tips – Stamps are a new thing for me.
Ok, Ok…I'll stop teasing

  Aside from the green backdrop paper, all elements were made from the same 12×12 sheet of cardstock!
What I Used:
Mischief – my eCrafts
Be Mine, With Love stamp set from Unity Stamp Company
Creme de Menthe cardstock from WorldWin
Watermark Resist – Inkssentials (Hobby Lobby)
Vintage Photo & Peeled Paint – Tim Holtz/Ranger Distress Inks (Christmas Presents lol)
Mini Mister – Amazon
Heat Embossing Gun – Michael's
Zig glue Pen – Hobby Lobby
Scotch Advanced Tape Glider – Michael's
Mirabelle stack – The Paper Studio (Hobby Lobby)
How I Did It:
I grabbed the Mirabelle stack, thumbed through it a few times until I decided on the pretty green sheet that has the writing on it.  It even feels COOL – like linen. And then…
Oh, you're not interested in that part?  I see.  Let's try this again, shall we?
I grabbed the stack of eCraft diecutable cardstock, plopped it in my lap  and flipped through the 26 colors until I found the one that really complimented the green Mirabelle paper.  Then I sat down at my desk, fired up eCraftshop Pro and created the scalloped rectangle using circles and a rectangle…
Oh.  You don't want to hear about that either?  Well.  Hmmmmm.
The INKS?  You want to know if I used the inks?  Of course I did, that's why they're on the list!  *snickers*  HOW did I use them?  Well why didn't you say so!  lol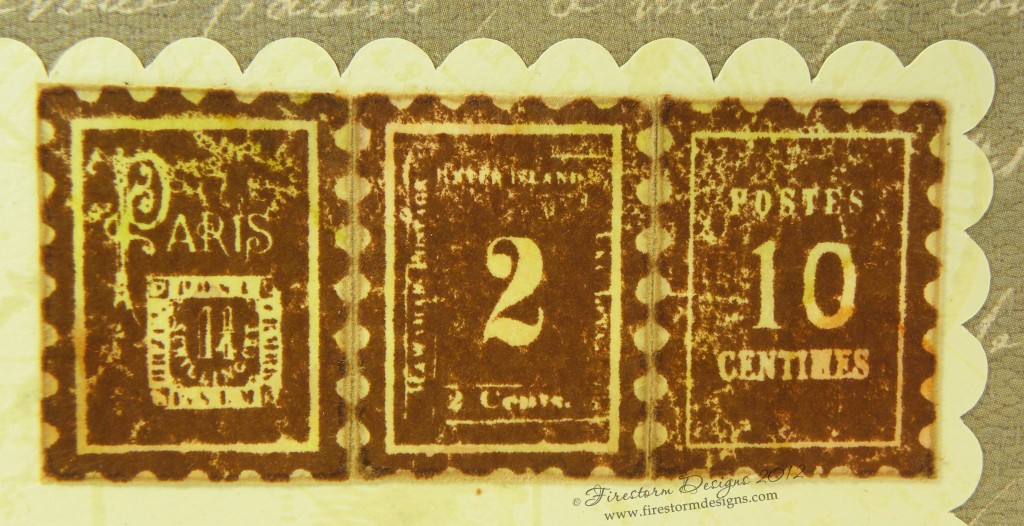 I took the Vintage Photo ink pad and dabbed it a few times on my desk, Mini-Misted it, laid the Creme de Menthe on it and then dried the paper with the heat embossing tool.  Then I cleaned up the mess, grabbed the Peeled Paint ink pad and dabbed it a few times on my desk, Mini-Misted it and laid the paper on it again…  Dried it with the heat embossing tool.  Then I used the Vintage Photo ink with the Stamp stamps LOL Cut around them, roughed up the edges a little with some sandpaper and adhered them to the card.  I LOVE how they turned out!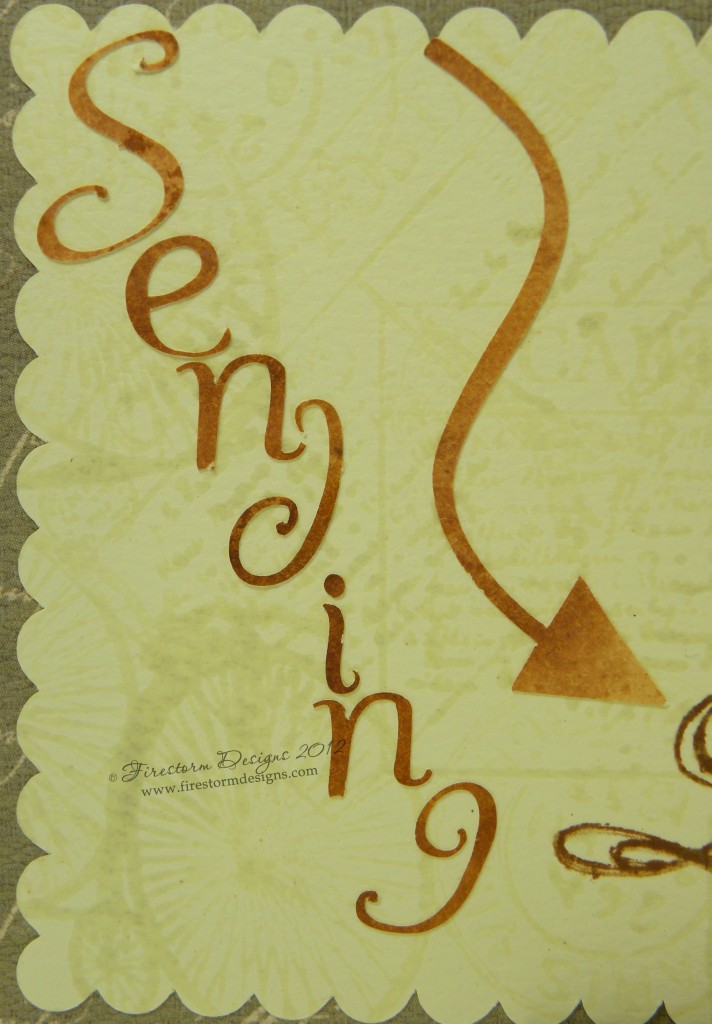 With the letters/arrow – I did the same thing as before with the Vintage Photo ink only… no Peeled Paint this time as I only wanted the brown…  Turned out very nice!  The font is called A Yummy Apology.
Notice the shadowy images on the background?  I used a few more stamps out of the stamp set from Unity and also used a random bicycle stamp (no brand name) laying around and used the Watermark Distress pad instead of ink.  Subtle but a very pretty effect…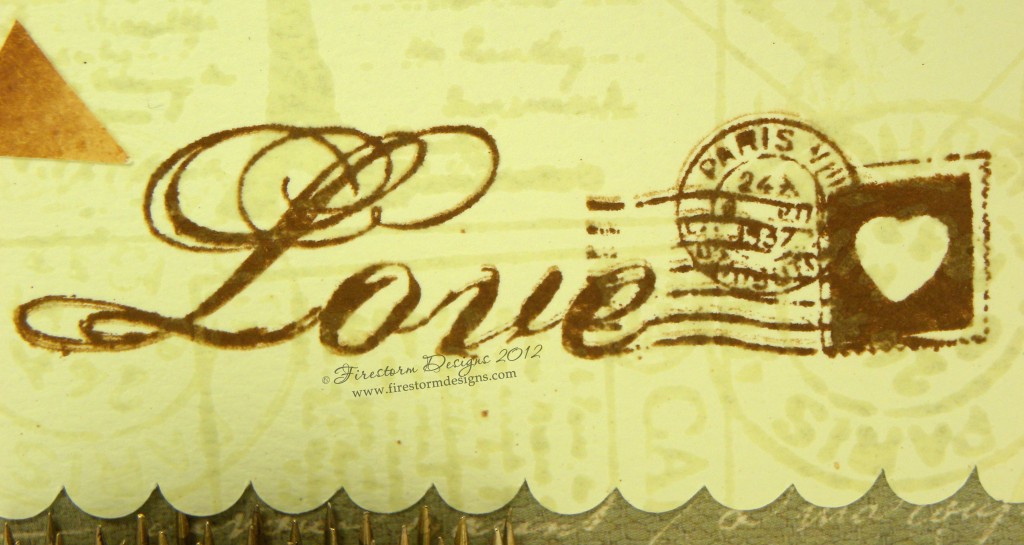 Ok ladies – help please!  lol  I'm pretty sure I know what I did wrong here.  LOL  I moved the stamp while pressing, right?  How do you ladies get such clean images when you stamp?  Practice?  Some Ancient Chinese Secret that isn't Calgon?  Inquiring minds want to know hahaha
I must admit though – I put this new cardstock through the ringer today!  I inked it, dried it, inked it again, dried it again and then turned it over to Mischief for her to torture it some more AND it held up beautifully!  I still got clean cuts even after brutalizing it… I am so impressed!
What do you do to add that little something extra to your projects?
Don't forget – the Blog Hop is STILL GOING!  So that means there's still a chance YOU could win the eBOSSER!  Be sure to swing by Craftwell's Blog and leave them a comment and follow them…You'll be glad you did!  ;-)
Then stop back by here to find out who's the winner of MY little giveaway

The minute you walked in the joint
I could see you were a man of distinction.
A real big spender,
Good lookin', so refined.
Say, wouldn't you like to know
What's goin on in my mind?
-Bette Midler
Bette Midler is one of those woman that isn't a bombshell but yet there is still something about her that grabs your attention and makes her stand out in a crowd.  One thing is for sure, she's all around awesome!
This month's challenge was 'home decor' and I wanted to do something that would add a little something-something to a typically ordinary object in my home.  Something we all have but don't tend to look twice at…  Candles!  There's not much too them and although they serve a multitude of uses, they're not much to look at (at least now that the 60's and 70's are over!  Phew!).  So I decide to spruce them up a little bit and give them a make-over.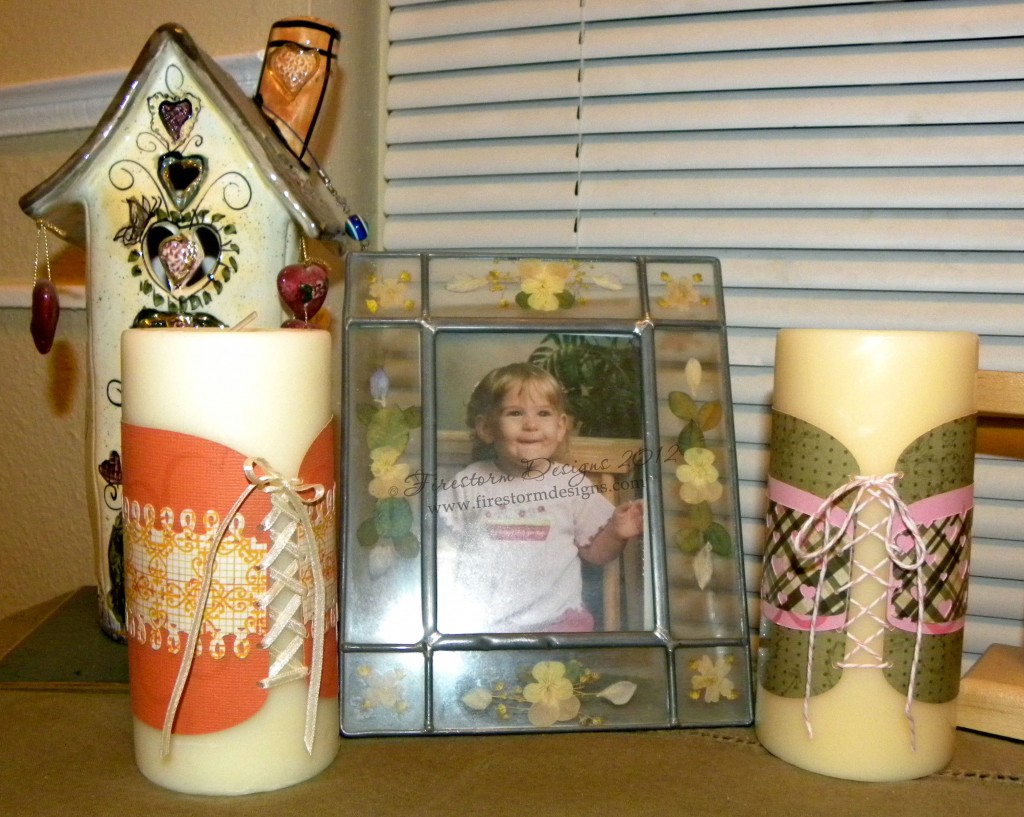 They're Candle Corsets!  *giggles*   And the best part; they're SUPER fast and easy to make.  BTW – don't tell my daughter about the picture!  lol  She's 13 now and well…you know how THAT age is!
What I used:
Mischief, my Pinc eCraft
eCraftshop Pro Software
DCWV 'Collage Musings' stack
Mr. Cricut Crazy 'Friends, Friends' stamp set
Pink/White string also came from Mr. Cricut Crazy
Ribbon
Martha Stewart Border Punch and All Over the Page Punch (Hobby Lobby)
Inkssentials Watermark resist pad (JoAnn's)
Zig Glue Pen (Hobby Lobby)
Scotch Advance Glue Glider (Michael's)
Candles
Measuring Tape
Wine (optional)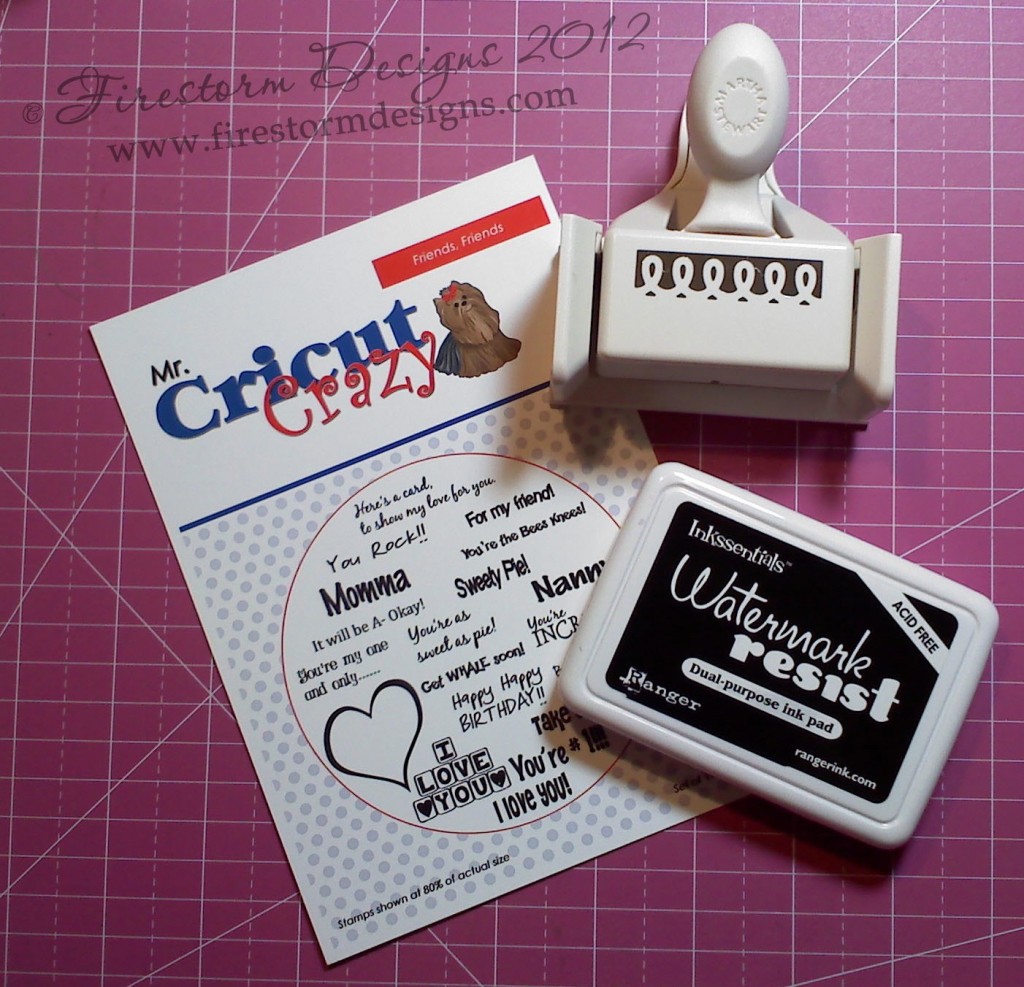 How I did it:
I walked through my house a few times and waited for that 'Ah-HA!' moment, got it, grabbed candles and scurried off to my haven *cough* I mean, my CRAFT ROOM.
Use your measuring tape to measure around the candle; be sure to leave a little gap so the 'corset' lacing will show against the candle.  For my candles I went with 8.5" wide and 4" tall; I wanted them big enough to be eye catching but not so big that I would have to take them off after only burning the candle for a short period of time.
From there I plugged the dimensions into the eCraftshop Pro and created the basic shape.  I also created the ribbon holes in the software too — word to the wise — if you decide to make your basic shape in the software, figure out what size holes you want and where (using the already-created main shape), then copy the holes ONLY and paste them onto a new virtual mat.  Then copy the main shape and paste it onto the same virtual mat as the holes.  This way the eCraft cuts the holes and then the main shape

  Easy Peasy!
Once the main shape was created, I used that to create the layers.  I kept 2nd layers the same length as the main layer and just made that layer shorter.  By doing that, the holes lined up when it was time to lace up the 'corsets'.
With the very cool geometrical style pattern paper from DCWV, I used a Martha Stewart border punch that complemented the pattern on the paper.  Then I used the heart shaped stamp from the Mr. Cricut Crazy Friends, Friends stamp set and my watermark distress pad to create a nice detail pattern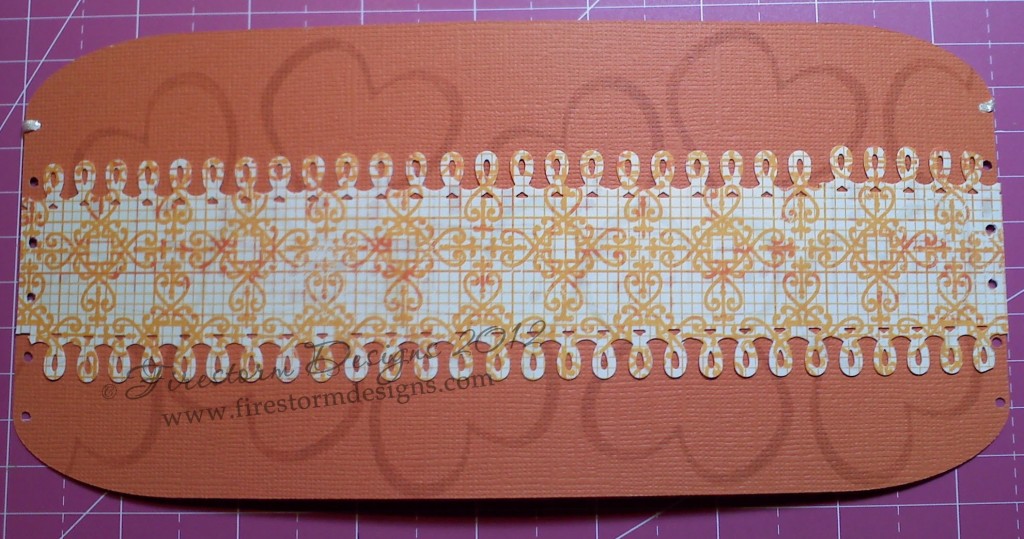 For the green corset, I used a really pretty green pattern paper with polka dots and the plaid pattern paper from the DCWV stack and I plaid paired it up with a cheer piece of pink card stock.  For the plaid layer, I used a Martha Stewart 'All over the Page' punch and did another watermark pattern with the same heart shaped stamp.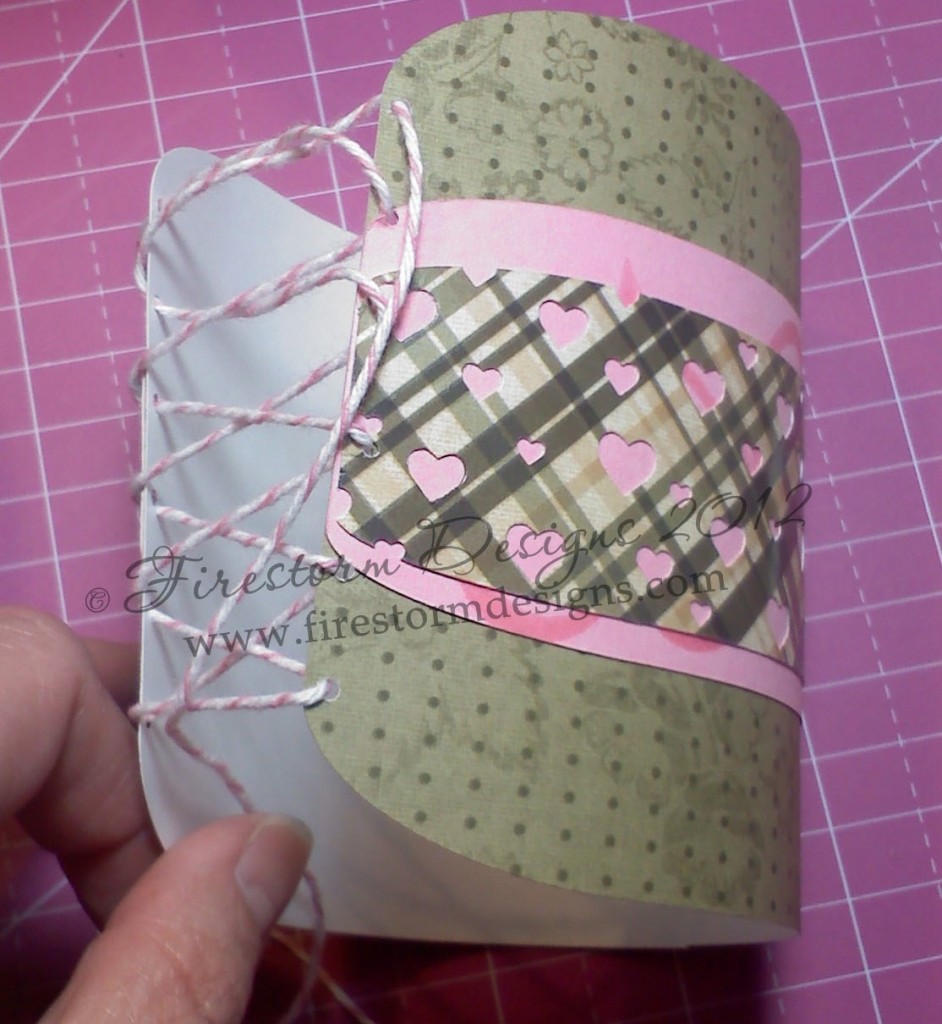 Now that the corsets are ready, its time for the tricky part.  Getting them on the candles!
The first corset went on without a hitch, looks pretty fabulous too.  But the 2nd candle wasn't convinced this was such a good idea.  So if you run into this problem yourself, here are a couple of options.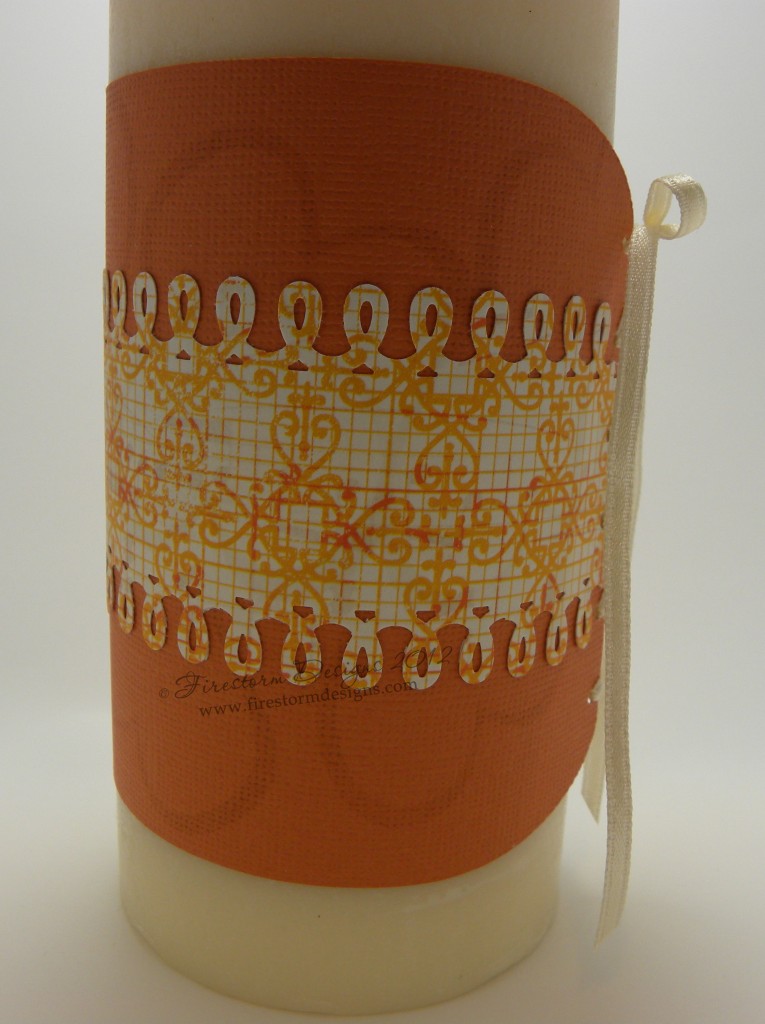 First, try the Peer Pressure approach.  Show the candle how great the other candle looks and how they could look that good too.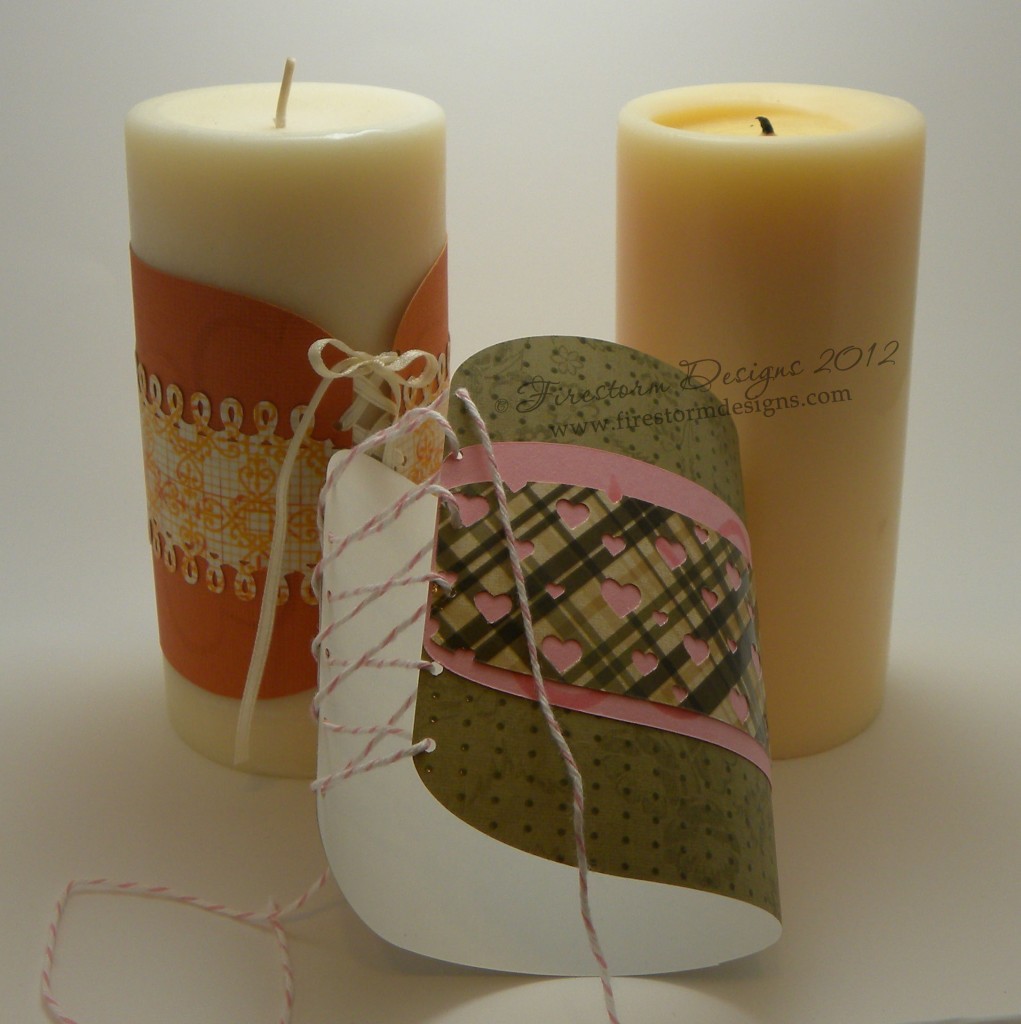 If that doesn't work, try Bribery.  I offered up a lovely glass of Pinot Noir from California…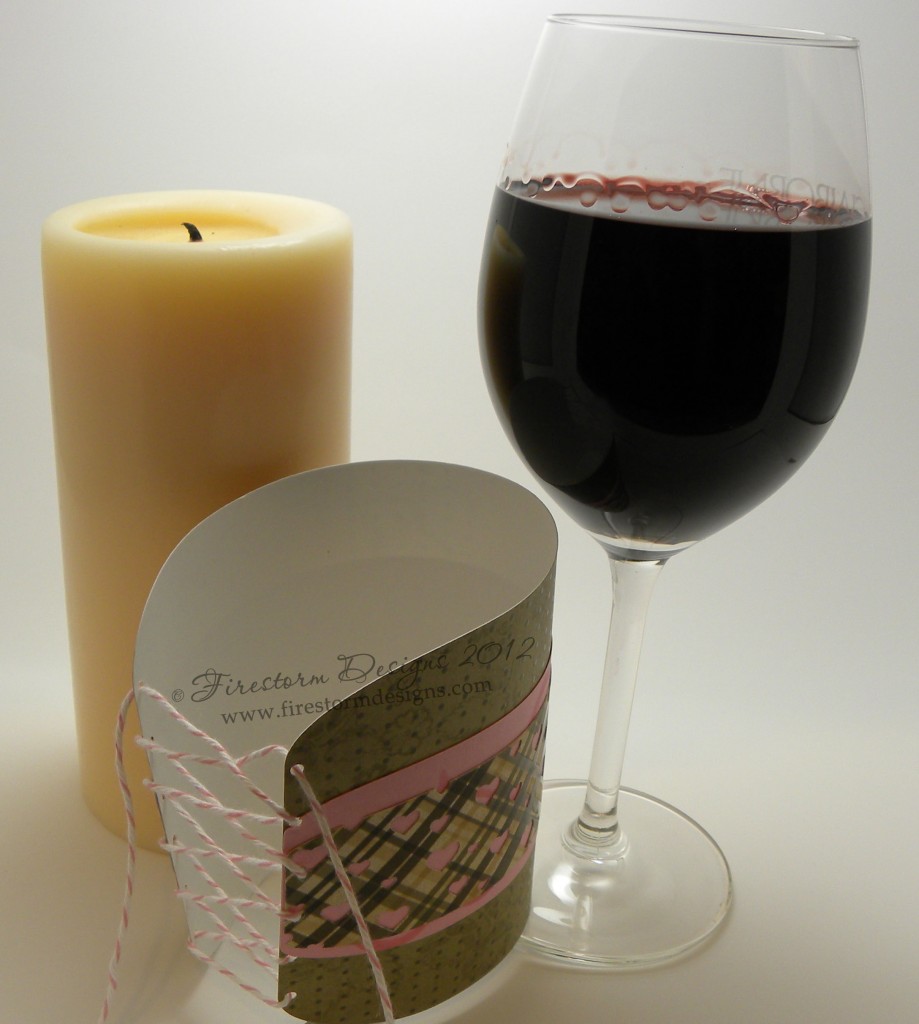 If that doesn't work…  do what I did.  I kept the glass of wine for myself and told the candle to put on her big girl panties and get with the program!  LOL
So without further adieu, Isabella and Francesca!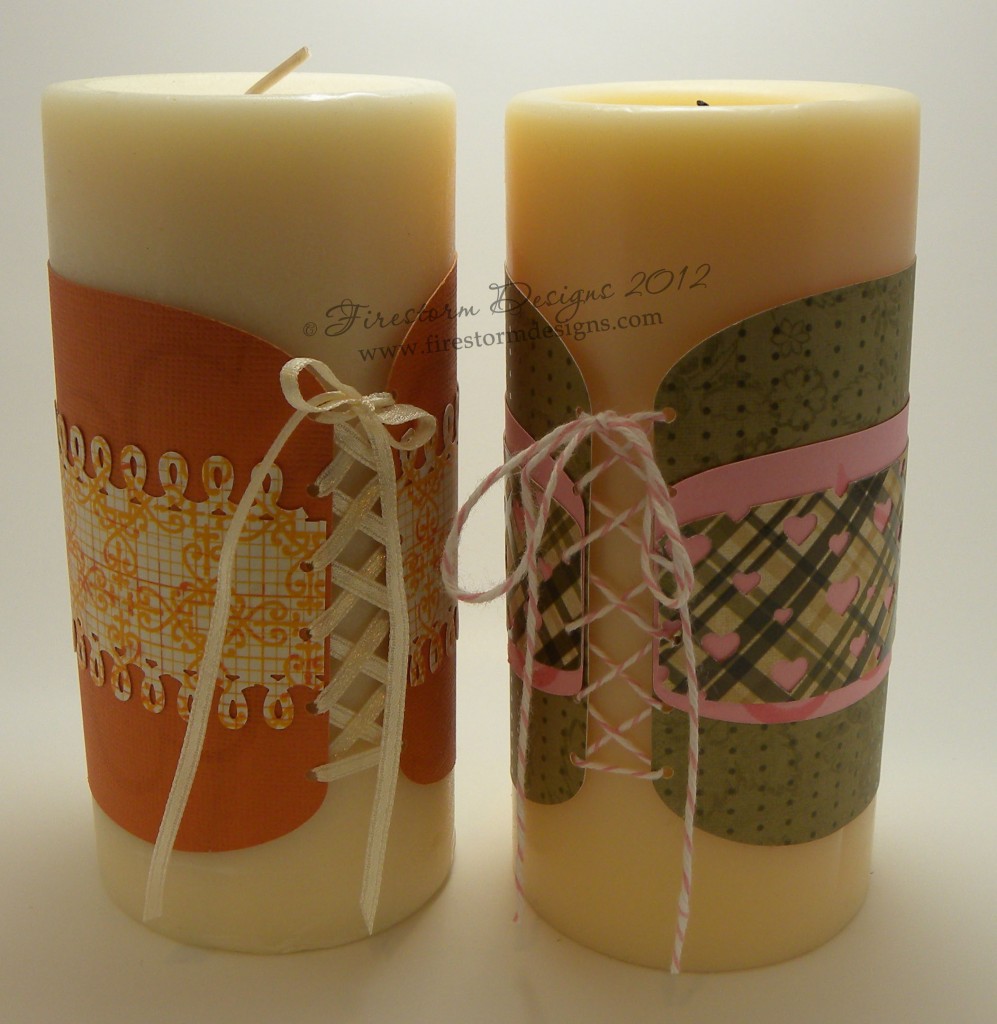 Aren't they just darling?!?!?!  Not bad for some great paper & stamp, a rectangle, some holes, 2 punches and ribbon/thread!
Now its your turn…  How can you take ordinary and make it extraordinary?
For those of you that are new to eCraftshop Pro and need a little help with that first basic shape (rounded rectangle), let me know — I have screen shots of how I did this and would be more than willing to email them to you