"Days Go By"
I'm changing lanes
I'm talking on the phone
I'm drivin' way to fast
And the interstate's jammed with
Gunners like me afraid of coming in last
But somewhere in the race we run
We're coming undone
Days go by
I can feel 'em flying
Like a hand out the window in the wind as the cars go by
It's all we've been given
So you better start livin' right now
'Cause days go by
-Keith Urban
With Memorial Day behind me, I'm reminded of all the other times I've said 'Thank you' for something that someone has given me or done for me; but how many times did that 'Thank you' come in the form of a physical card? Not often enough, I know that…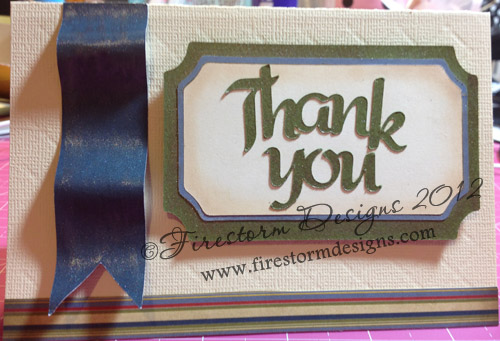 In the hustle and bustle of daily life 'polite' society has gotten a whole lot more relaxed these days… Ladies no longer wear white gloves, Calling Cards (not the kinds you use for phones) are long gone and even learning how to write in cursive has gone by the wayside.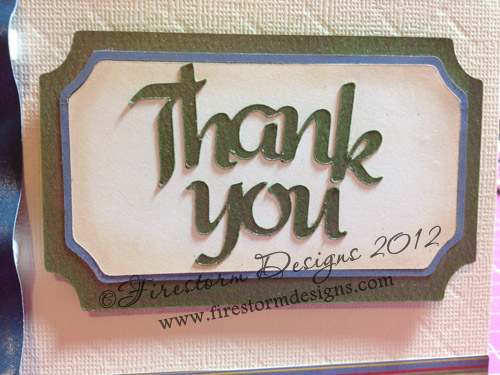 Soon enough, I imagine even physical 'Thank you' cards will become a thing of the past… Yikes! Can you imagine getting nothing but BILLS and JUNK MAIL in your mail?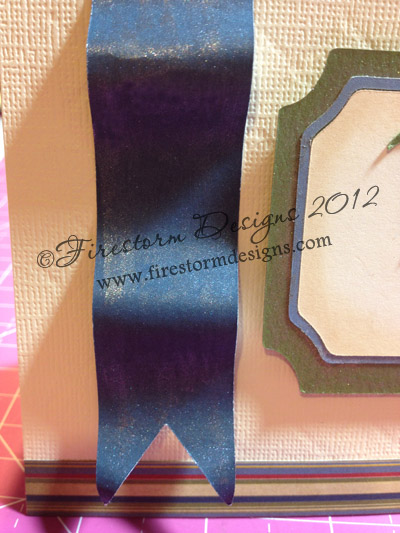 I don't know about you, but that's not something I want! Luckily, we can still prevent that from happening

If each of crafters buckles down and sends out HAND MADE (lol) cards for every little gift received and kindness shared – who knows what kind of changes we could bring about. Why, we might even dabble in that other long, lost art…Letter writing!
This week's project has been proudly sponsored by SignifyPink – right now they are blowing out the doors on all their products, so get on over to their site FAST!
Wholesalers – www.signifypinkwholesale.com Don't have a wholesale account yet? They'll get you set up and fast!
What I Used:
eCraft
SignifyPink 'Honor'
CutMates Cardstock
Perfect Pearls
Xyron 5" Creative Station
Foam squares
"Anything You Can Do (I Can Do Better)"
from Annie Get You Gun
Annie: Anything you can do I can do better
… I can do anything better than you
Frank: No, you can't
Annie: Yes, I can
Frank: No, you can't
Annie: Yes, I can
Frank: No, you can't
Annie: Yes, I can, yes, I can
Frank: Anything you can be I can be greater
… Sooner or later I'm greater than you
Annie: No, you're not
Frank: Yes, I am
Annie: No, you're not
Frank: Yes, I am
Annie: No, you're not
Frank: Yes, I am, yes I am
-Betty Hutton & Howard Keel
Do you ever have one of those days when you sit back and think to yourself 'How awesome am I?!?!?' LOL I'll bet it happens a lot more than most of us would admit… Especially, as my mom pointed out to me, 'no one likes a brag'!
That's why I love that there is good bragging and bad bragging

And today's post is the good kind… See, my boss has a HUGE event coming up and she needs lots of things. The first thing she asked me to do was use her Big Shot and cut out 200 matchbox boxes. Yep, you read that right – TWO HUNDRED. Do you have any idea how much manual labor its takes to cut out that many boxes??? But what happens when you want that same box but BIGGER? You can't make a die grow no matter how much you love and nurture it. And no amount of water is going to help either – you'll just end up with a wet mess that nobody wants to clean up

eCraft to the rescue!

The original box is on the right and the full-sized, classic version is on the left.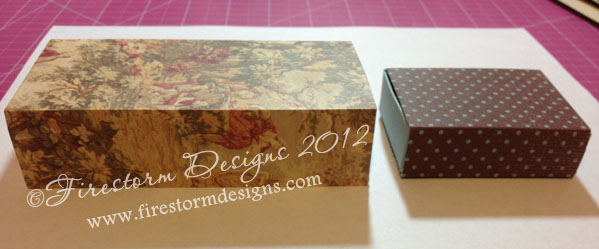 That's the beauty of my eCraft! Everything that my boss has wanted – I can do it with my eCraft (and yes, there will be more projects to come from this event!).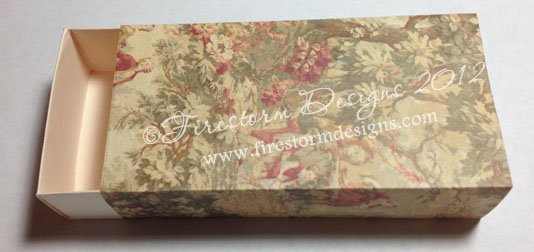 This particular box can be found at http://www.SVGattic.com in the 'Be Mine' set. Which brings me to a couple more benefits to having an eCraft; the set that I bought was instantly available for me to use, I didn't have to wait for it to be shipped and for it to arrive. I paid $5.99 for the set of files (4 items, multiple layers); when was the last time you could buy a die for that price – let alone buy 4 of them?!?!?
What I Used:
eCraft
Rose Gift Box
Xyron Tape Runner
Pattern Paper – Maribelle stack
Coordinating card stock
How I Did It:
I went shopping and picked up a great set of svg files lol
I got out my slave-driver whip and put my eCraft to work
My Xyron Tape Runner made quick work of the 'lid' – I am so loving all my new Xyron goodies! lol
My boss is a pretty spectacular individual who has taught me a great deal in the short time I've worked for her – so it means a lot to me that I can do these things for her. My eCraft gives me the freedom to go wherever mine or her imagination takes us.