I Believe
Forever, you're a part of me
Forever, in the heart of me
I will hold you even longer
If I can..
There are more than angels watching
Over me.. I believe.. ohh, I believe.
Every now and then
Soft as breath upon my skin
I feel you, come back again..
And I believe..
-Diamond Rio
Chloe was 9 months old when she came to us; she had been living on the streets with her first family who had gotten caught up in drugs and ended up becoming homeless.  Thankfully, they knew that Honey (her original name) deserved better and so they gave her up.  Her foster family renamed her Chloe and it was perfect for her.  The day I picked up Chloe, she was a mess!  She hadn't been groomed in who knows how long and she didn't even look like a poodle.  The foster family was used to fostering boxers and didn't realize the maintenance poodles require.  When I took her to the groomers, her coat came of in one big chunk, it was that matted.
Chloe was my first standard poodle, up until her I had owned toy poodles.
From the beginning, Chloe and I were bonded and went everywhere together.  Once she even protected me from a snake!
She was such a sweet dog and never met a stranger…even the strange dogs that came to live with us!
She had such an easy going spirit.
She loved her crate…it was her space and no one bothered her when she was there.
This picture wasn't posed, they just ended up this way.
Chloe spent every day in bed with me while I was going to through cancer treatment; she just knew that I needed her close.
How do you say goodbye to someone so important?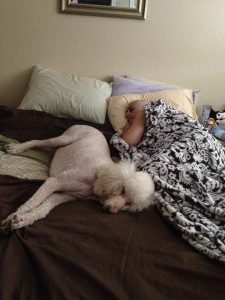 So loving.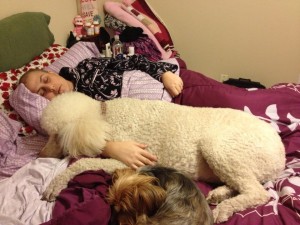 Who knew that just her presence made it easier to cope with pain of chemotherapy.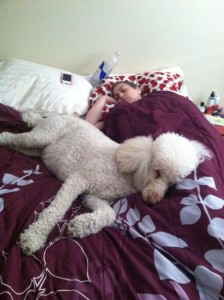 Shortly after I finished treatment, Chloe was diagnosed with breast cancer…I can't put into words the guilt I felt.  We opted for surgery only since I knew, first hand, how brutal chemotherapy is.  Our wonderful vet put us on notice that Chloe was now living on borrowed time.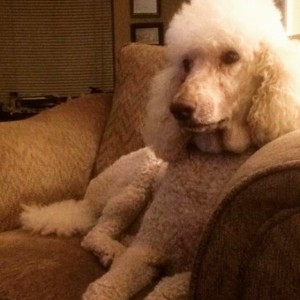 While on vacation in Ohio with my husband's family, Chloe started coughing and throwing up.  We took her to a local vet who checked her stomach & intestines to see if there was a blockage, there wasn't.  He recommended boiled chicken and rice until her system calmed down and chocked up her symptoms to an upset stomach.  It took us 3 days to get home (we drove, hauling our trailer) and she had an appointment with our vet the morning after we got home.
Our vet did a physical exam and I could tell by her face that something was very wrong.  She took Chloe back for x-rays, hoping it was aspiration pneumonia.  It wasn't.  She even contacted numerous specialist hoping that her diagnosis was wrong.  They confirmed it…Chloe was dying.  My vet was crying when she came back into the room to give me the news; her cancer had returned and she had 3 masses surrounding her heart and the pressure of them squeezing her heart is what caused her to cough and throw up.
She brought Chloe back to me and what I saw broke my heart.  When I was looking at her or engaging her, she was bright & perky, tail wagging.  But as soon as I turned my head, she would exhale and hang her head.  She was trying to be strong for me…even in the end, she was trying to be there for me.
We decided that it was time to say our goodbyes and while waiting for my husband and daughter to arrive, Chloe went around the whole vet office getting treats and affection from everyone that worked there.  When Mike and Sam arrived, they brought cheeseburgers with them.  All in all, Chloe had lots of cheesewiz, 2 bacon cheeseburgers and one whopper with just cheese.  I wanted her last hours to be filled with love and awesome treats.  It was…even when the vet gave her the sedative, she was still chomping on her burgers.  To the end, Chloe was strong.
Leaving that room was the hardest thing I've ever had to do.  We're all in shock and even Kona is crying.
She was my once in a lifetime dog and although I know I'll love others…it won't be the same.  Chloe was my heart, my comfort, my strength and I'm completely lost without her.  I miss her.so.much.
Run free my sweet Moose, my Moosiebutt, my moose-fries, my moosie-fritzer.  You are forever in my heart.