"18 Wheeler"
Can't keep me down
Can't keep me down, down
Can't keep me down
I said you can't keep me down
You know you can't keep me down
I said you can't keep me down
-P!nk
I would post more of that song…but….well…it has a bad word in it! That song has been my fight song for nearly a year now and although the message of the song is simple, its still quite powerful. And though I prefer songs that don't have profanity in them (so my daughter can listen to them too), my battle with stage 3 cancer this past year has elicited more then a few choice words from me!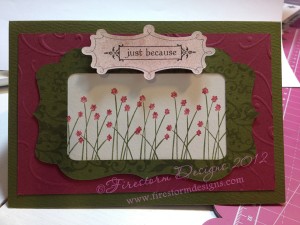 In all the hustle and bustle of modern life, there are times when we make things more complicated then they need to be; sometimes we just need to keep things simple to get the message across.

Stepping back into my craft room after 10 months has been exciting and a little bit overwhelming too. I longed to create something and have everything I need but still I struggled with what to create. I knew I had to use the eBosser (aptly named Mayhem, has been calling to me for months now!) and I needed to blow the dust off of my beloved Mischief (my Pinc eCraft)…but I was still at a loss as to where to start. Chemo, although completed, is still wreaking havoc with my world; luckily though, I have a mom who was really good at repeating herself when I was growing up! LOL I just needed to KISS – Keep It Simple Silly.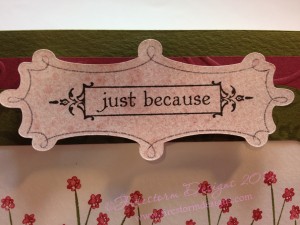 And so I did… A simple card to convey a simple message to be sent to someone who just needs to know they're being thought of. Its the simple things in life that can have the most profound effect.
What I Used:
Mischief – Pinc eCraft
Mayhem – eBosser
Cutmates Paper by WorldWin
Sizzix Texture Plate
'Just Because' stamp by Stampin' Up!
Tattered Angels Glimmer Mist
Scotch ATG
$1 Flower Stamp from Walmart
Zig Pens
If you're struggling to find inspiration for your next project; just get back to basics and keep it simple

"Days Go By"
I'm changing lanes
I'm talking on the phone
I'm drivin' way to fast
And the interstate's jammed with
Gunners like me afraid of coming in last
But somewhere in the race we run
We're coming undone
Days go by
I can feel 'em flying
Like a hand out the window in the wind as the cars go by
It's all we've been given
So you better start livin' right now
'Cause days go by
-Keith Urban
With Memorial Day behind me, I'm reminded of all the other times I've said 'Thank you' for something that someone has given me or done for me; but how many times did that 'Thank you' come in the form of a physical card? Not often enough, I know that…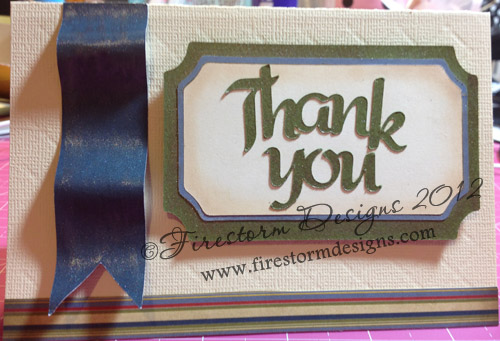 In the hustle and bustle of daily life 'polite' society has gotten a whole lot more relaxed these days… Ladies no longer wear white gloves, Calling Cards (not the kinds you use for phones) are long gone and even learning how to write in cursive has gone by the wayside.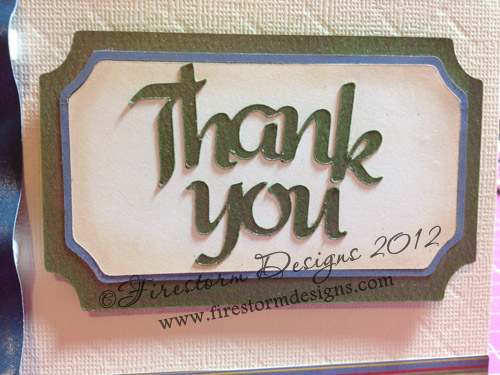 Soon enough, I imagine even physical 'Thank you' cards will become a thing of the past… Yikes! Can you imagine getting nothing but BILLS and JUNK MAIL in your mail?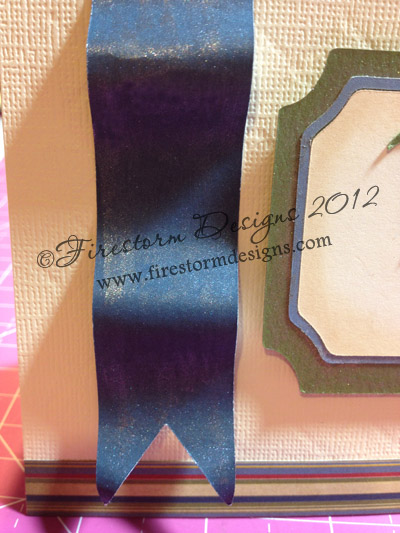 I don't know about you, but that's not something I want! Luckily, we can still prevent that from happening

If each of crafters buckles down and sends out HAND MADE (lol) cards for every little gift received and kindness shared – who knows what kind of changes we could bring about. Why, we might even dabble in that other long, lost art…Letter writing!
This week's project has been proudly sponsored by SignifyPink – right now they are blowing out the doors on all their products, so get on over to their site FAST!
Wholesalers – www.signifypinkwholesale.com Don't have a wholesale account yet? They'll get you set up and fast!
What I Used:
eCraft
SignifyPink 'Honor'
CutMates Cardstock
Perfect Pearls
Xyron 5" Creative Station
Foam squares