"18 Wheeler"
Can't keep me down
Can't keep me down, down
Can't keep me down
I said you can't keep me down
You know you can't keep me down
I said you can't keep me down
-P!nk
I would post more of that song…but….well…it has a bad word in it! That song has been my fight song for nearly a year now and although the message of the song is simple, its still quite powerful. And though I prefer songs that don't have profanity in them (so my daughter can listen to them too), my battle with stage 3 cancer this past year has elicited more then a few choice words from me! 😉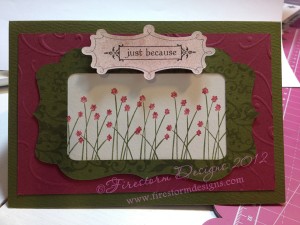 In all the hustle and bustle of modern life, there are times when we make things more complicated then they need to be; sometimes we just need to keep things simple to get the message across.

Stepping back into my craft room after 10 months has been exciting and a little bit overwhelming too. I longed to create something and have everything I need but still I struggled with what to create. I knew I had to use the eBosser (aptly named Mayhem, has been calling to me for months now!) and I needed to blow the dust off of my beloved Mischief (my Pinc eCraft)…but I was still at a loss as to where to start. Chemo, although completed, is still wreaking havoc with my world; luckily though, I have a mom who was really good at repeating herself when I was growing up! LOL I just needed to KISS – Keep It Simple Silly.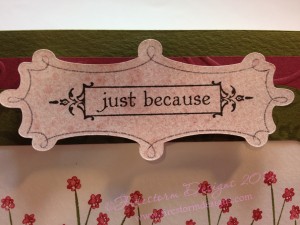 And so I did… A simple card to convey a simple message to be sent to someone who just needs to know they're being thought of. Its the simple things in life that can have the most profound effect.
What I Used:
Mischief – Pinc eCraft
Mayhem – eBosser
Cutmates Paper by WorldWin
Sizzix Texture Plate
'Just Because' stamp by Stampin' Up!
Tattered Angels Glimmer Mist
Scotch ATG
$1 Flower Stamp from Walmart
Zig Pens
If you're struggling to find inspiration for your next project; just get back to basics and keep it simple 🙂